We've all been prodded to visit a website because of a persistent Facebook ad – the kind that follows you to Instagram and back to Facebook. With a reported 9.21% average conversion rate across industries, we know Facebook ads work. How does a digital marketer create a sticky and effective Facebook ad?
Strategic Campaign and Audience Setup
Behind any successful campaign is a clear and focused strategy. A paid Facebook campaign should be built around a well-defined objective—without one, you'll burn through your budget faster than you can say "Mark Zuckerberg." Once an objective is chosen, the campaign should be optimized for relevant KPIs. Commonly used KPIs are: Reach, Leads, Sales, and Store Visits.
With KPIs in place, you can set up custom audiences based on Customer File, Website Traffic, App Activity, Offline Activity, and Engagement. If you have enough historical data from existing or returning customers, you could build a lookalike campaign to target similar prospects that behave like the individuals who interacted with your company.
Through your ad account you can promote multiple campaigns to accomplish your objectives. With this level of freedom, it is imperative to keep your campaigns, ad sets, and ads organized. You want to make sure that your ad spend is working toward the appropriate goals and measuring the right KPIs.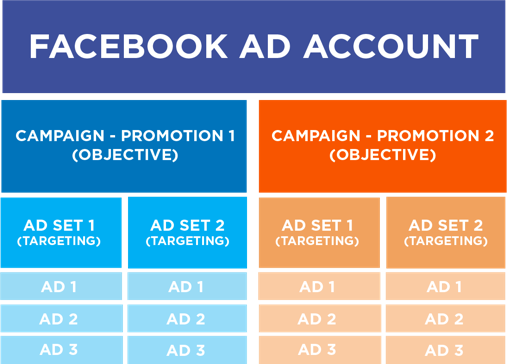 Source: Wordstream
More on targeting:
[Blog] Supercharge Your Paid Ads with 5 Proven Targeting Tactics
Intelligent Tracking
Facebook has gotten more sophisticated in full journey tracking. With the proper implementation of a Facebook pixel, a consumer's entire journey can be captured. This means that in addition to receiving notification of a final conversion, you are now able to see the very actions and behaviors that led to the conversion.
The pixel is also optimized by industry so that industry specific behaviors are identified and tracked. For example: the pixel can tell you when an item has been added to a shopping cart on a fashion retail website. It can also capture a search query made on a university admissions web page, all based on how the Facebook campaign has been set up.
Smart Creative
Facebook keeps businesses on their toes by regularly updating the format and placement options for ads. Videos are usually the most engaging format, though slideshows and carousels are viable alternatives if a high quality video is not available.
Facebook Ads can be served in newsfeeds, the right hand rail, and in the increasingly popular Stories format. If A/B testing creatives, we recommend testing a maximum of 3 options to collect the most actionable insights. Too many messages are harmful to the overall campaign performance.
More on Creative:
[Webinar Replay] Dos and Don'ts of High Impact Creative
Robust Testing
To accompany the customizability of ads, Facebook offers extensive analytics to show the impact of your ads. Like any reporting tool, it is critical to know how to interpret performance numbers to evaluate progress toward campaign goals. Based on campaign KPIs, we utilize Conversion Lift Studies, Brand Lift Studies, Cross-Publisher Studies, and Test and Learn Studies.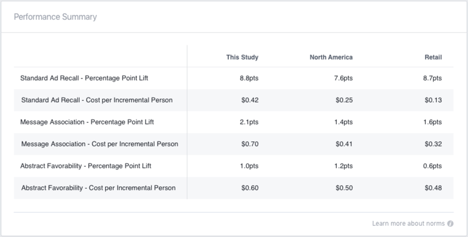 Source: Facebook
More on Campaign Optimization:
[Webinar Replay] 4 Tips to Optimize Facebook for Reach and Conversion
Get Your Facebook Ads to Work for You!
Despite what you may be hearing on the news, Facebook—and their beloved ads— are still alive and well! Stay apprised of changes to Facebook formats, placements, and budgeting models or reach out to our digital experts at info@cybba.com to optimize your paid social campaigns today.