Let the madness begin! March Madness Marketing, that is...
Every year around this time, people start prepping their basketball brackets, reviewing game highlights, and locking in internal bets with their friends and family for the infamous March Madness Tournament. With this event being one of the most digitalized sports productions around, brands can capitalize on the hype with well-timed marketing strategies and content.
One strategy that comes to mind when referring to live sports is the utilization of an OTT marketing campaign. As more and more viewers tune into the tournament every year, they are searching for the best streaming network to watch their favorite teams succeed over their rivals. Since OTT platforms provide an extensive type of content, brands can target specific ad placement to get in front of selected viewers, while also expanding their audience base. With OTT streaming becoming widely available, there are numerous networks for marketers to get in front of before the tournament starts.
Not only are more people popularizing OTT streaming services, but OTT audiences are more engaged than traditional audiences when watching the basketball games. Below we can recognize the difference in OTT viewers vs. CTV viewers.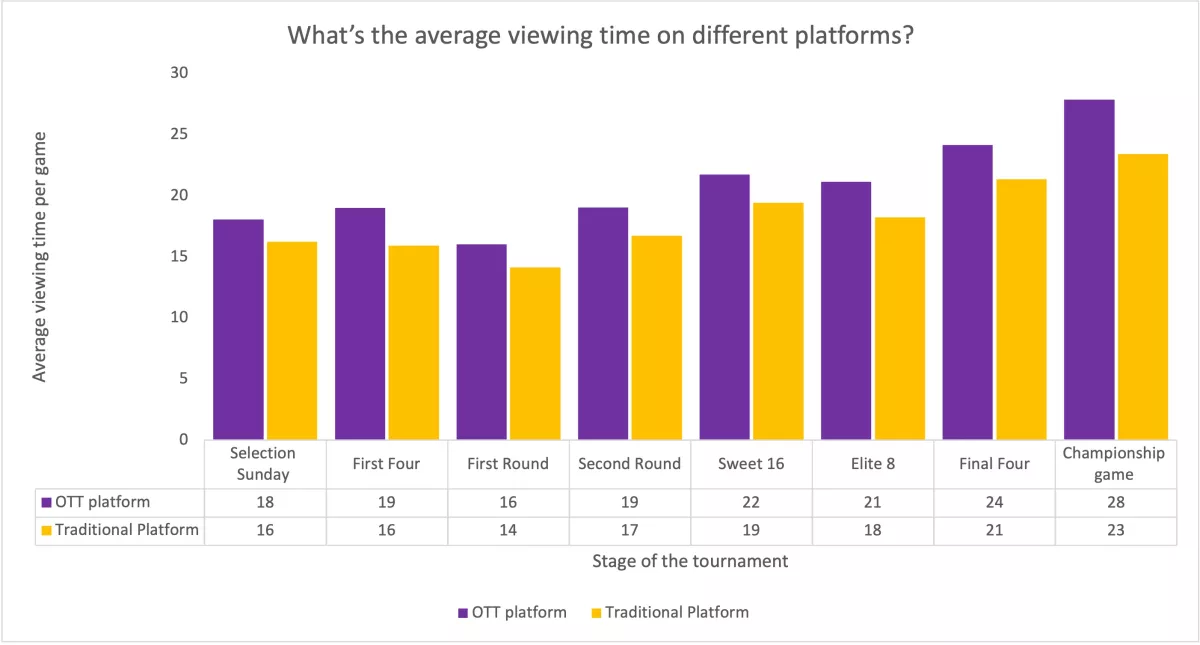 As OTT marketing is not the only way to get in front of your audience, capitalizing on basic forms of marketing as well is key. Whether that be through promoted social media posts or even tailoring your email and onsite engagement campaigns to match the energy of the basketball season, having multiple advertising avenues will give you a more well-rounded marketing plan. Show up, show out, and slam-dunk your marketing efforts this march madness season!