Editor's Note: This post was originally published in September 2019 and has been updated for accuracy and comprehensiveness.
After a year of what can only be referred to as "unexpected turbulence," the airline industry is beginning its slow descent into recovery. Consider using this time to revisit old marketing strategies and reevaluate your existing vendors with fresh eyes.
When your budget was cut or eliminated, what tools worked best for your business and which can you replace or consolidate? Even though travelers are eager to fly again, you'll still need to prove the value behind every dollar of your marketing spend.
As you perform your marketing audit, pay close attention to the players involved in a conversion. Adopting a Conversion Rate Optimization (CRO) mindset will help you find inefficiencies and streamline your processes while keeping your marketing objectives in focus.
Conversion Efficiency
Cybba has worked with international airlines for over 8 years to address the cross-industry challenge of achieving true conversion rate optimization. We've identified two common sources of conversion inefficiency: 1) Attribution Overlap and 2) Unclear Incrementality Measurement. After 2020, the ability to remedy these inefficiencies is more important than ever.
Attribution Overlap
In 2020, the marketing technology landscape grew by 13.6%, to include a total of 8,000 Martech vendors. The average number of marketing tools in an enterprise tech stack grew to 120.
Marketing teams partner with different vendors to ensure that they are reaching customers at each stage of the buyer journey. These customer touchpoints include display prospecting, paid social, SEM, onsite engagement, abandonment emails, and display retargeting.
After a successful conversion, every vendor wants a piece of the pie. This results in multiple vendors claiming payouts for a single conversion, and significant erosion of your already thin margins.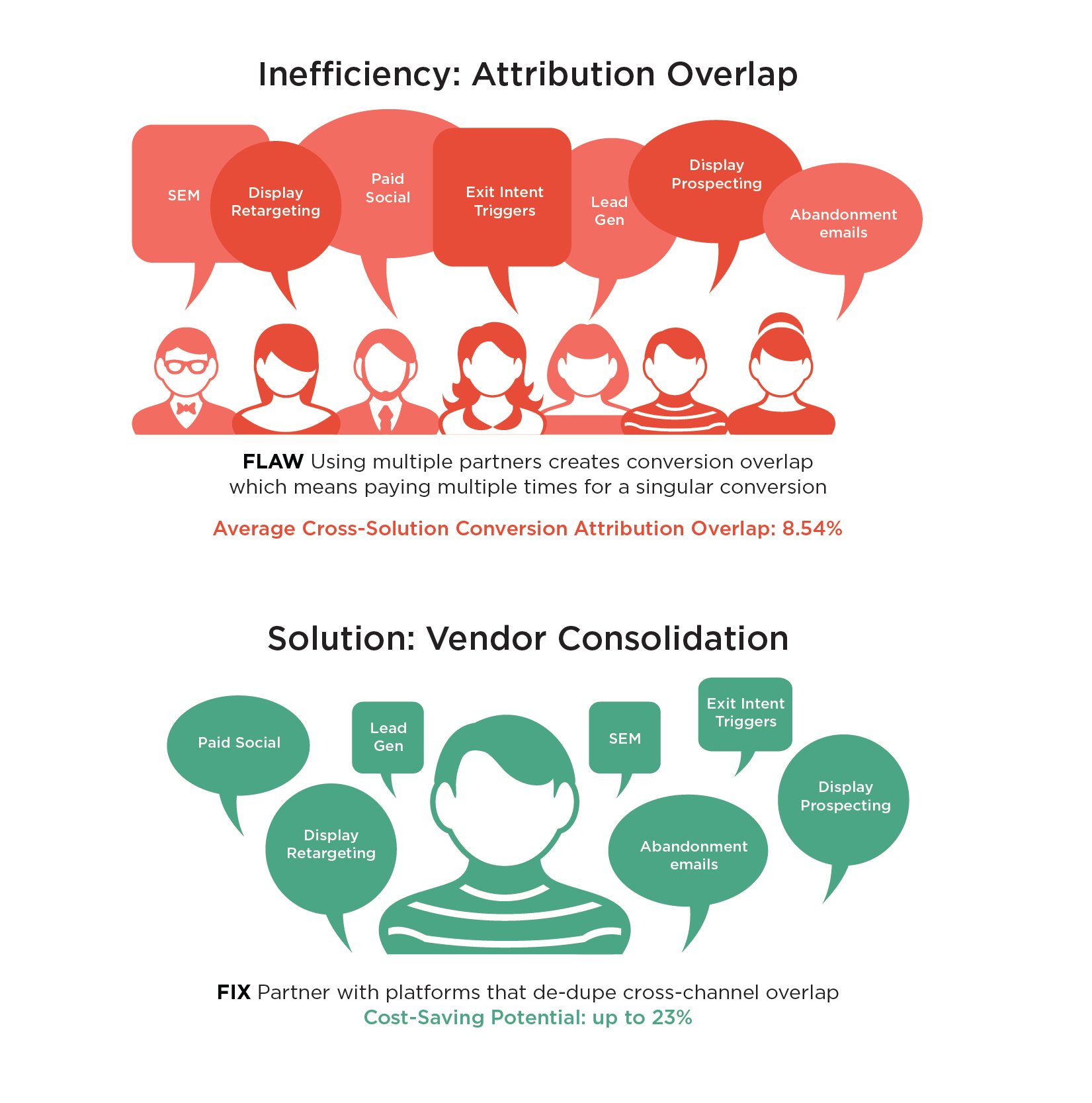 To combat attribution overlap, we recommend strategic vendor consolidation. When building out your marketing stack, consider which platforms will minimize cross-channel overlap. In our experience, clients using Cybba's full platform of solutions see an average attribution overlap of 8.54%. Since Cybba dedupes engagement across our multiple solutions, we only count the action that converts.
Consolidate your marketing and advertising efforts with a vendor that uses a single attribution approach across multiple touchpoints in your strategy. By removing attribution overlap, you can achieve a potential cost savings of as much as 23% with the same, or even better, results.
More on Attribution Overlap: [Blog] Attribution Inefficiency: Avoid Overpaying For Your Conversions
Incrementality Measurement
Another source of conversion inefficiency is the payment for conversions that would have happened naturally. We know that about 5.3% of eCommerce customers will return to an abandoned shopping cart without a reminder.
To pay for true conversion uplift, look for vendors who can identify incrementality, and show the added value of their services. Through incrementality testing, Cybba has saved partners upwards of 12% in digital marketing costs. We always illustrate the impact of our solutions against the results of conversions that would have happened naturally.
More on Incremental Attribution: [Datasheet] Cybba's Approach to Uplift
Getting Started
To move the needle on conversion efficiency and achieve meaningful CRO, airlines can start by consolidating their marketing services vendors. Transparent conversion attribution and incrementality testing combats the hidden costs of attribution overlap and unnecessary attribution. The key to higher margins is waiting for you right in your tech stack.