After a year at home, consumers are jumping out of their tie-dye sweatsuits eagerly awaiting the official thumbs up to start traveling again. Many have already embarked on their first "vaxications," or post-vaccine vacations, while others are planning their own post-pandemic dream adventures.
While demand for travel is rebounding, it is important to remember that consumer needs are different from before. If your business went into hibernation during the COVID pandemic, now is the time to wake up and refresh your marketing strategy. By ramping up your marketing tactics, you'll be able to meet the new travelers' needs and benefit from the full travel renaissance when it finally arrives.
What do travelers want?
1. Safety
Following a trend that began during COVID, travelers are demanding extra safety and cleaning measures for restaurants and hotels especially. Messaging about cleanliness should be featured prominently on your website homepage and linked to a dedicated page outlining exact cleaning procedures.
A promobar placed above the navigation bar of a website is an effective way to proactively communicate new or enhanced safety measures. This placement easily catches a visitor's eye and offers piece of mind by immediately addressing their concerns about COVID.

2. Privacy and Personalization
Travelers are prioritizing privacy and personalization over some of the more traditional amenities offered by the hospitality industry in the past. Even the definition of luxury travel is changing; 79% of respondents consider complete privacy a travel must-have and are opting for more customized getaways to keep their vacations intimate, isolated, and safe.
Digital nomads, entirely remote digital workers, and the growth of hybrid in-person/remote workplaces have also made hotels an appealing option for a productive, safe, and relaxing change of scenery. Digital workers are planning longer domestic trips where they'll be able to vacation and continue to work. They're looking for reliable internet, privacy, safety, and a comfortable working space. Hotels offering special incentives to encourage longer stays and highlighting "work from home" amenities have been able to capture the interest of this growing workforce segment.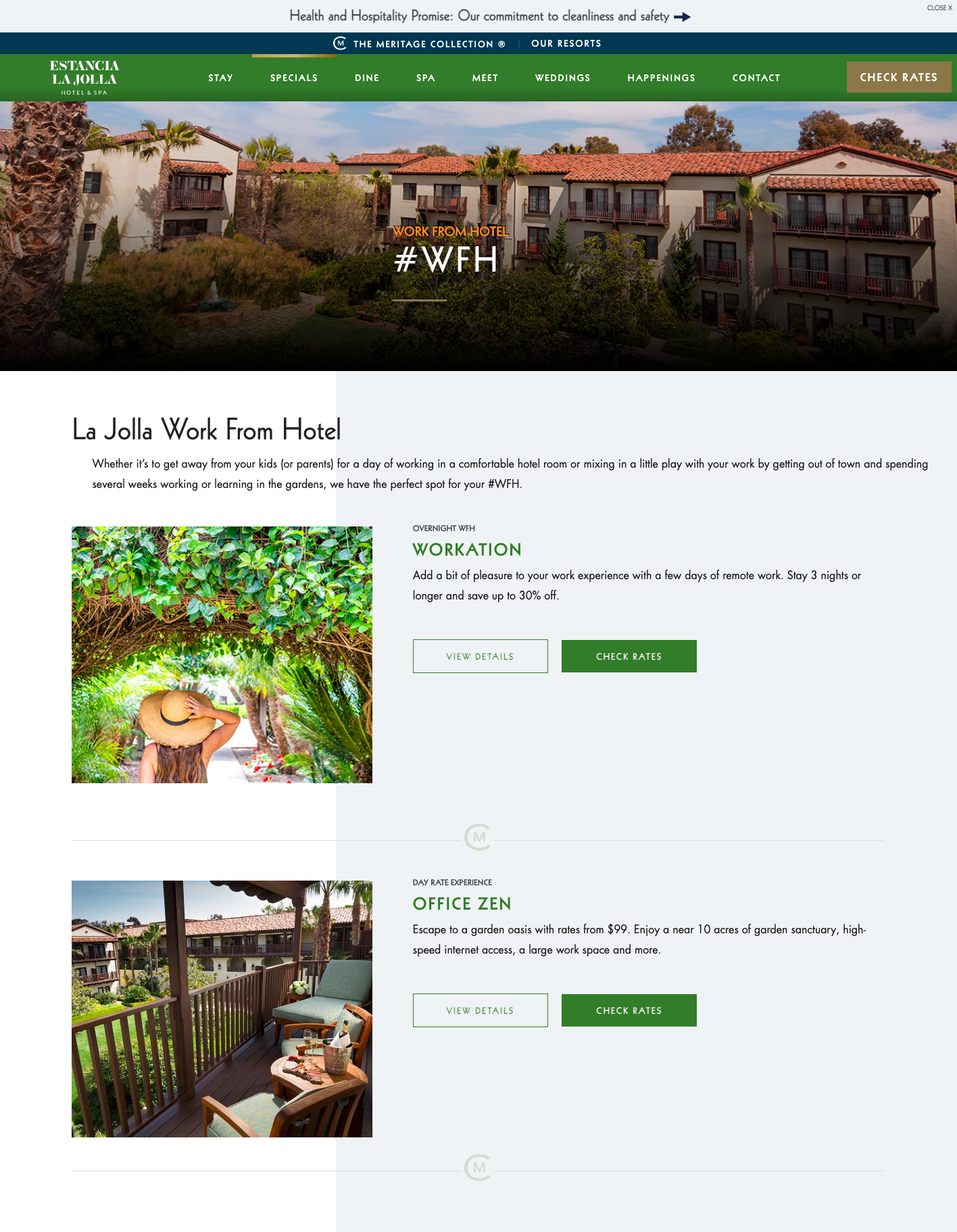 If your hotel offers special work from home incentives, a Cybba onsite engagement pop up message will notify website visitors as they are demonstrating intent to leave the website. A work from home promotion could keep a visitor on the booking page, and even considering extending the length of their stay, if they learn about a deal they would have otherwise overlooked at the right time.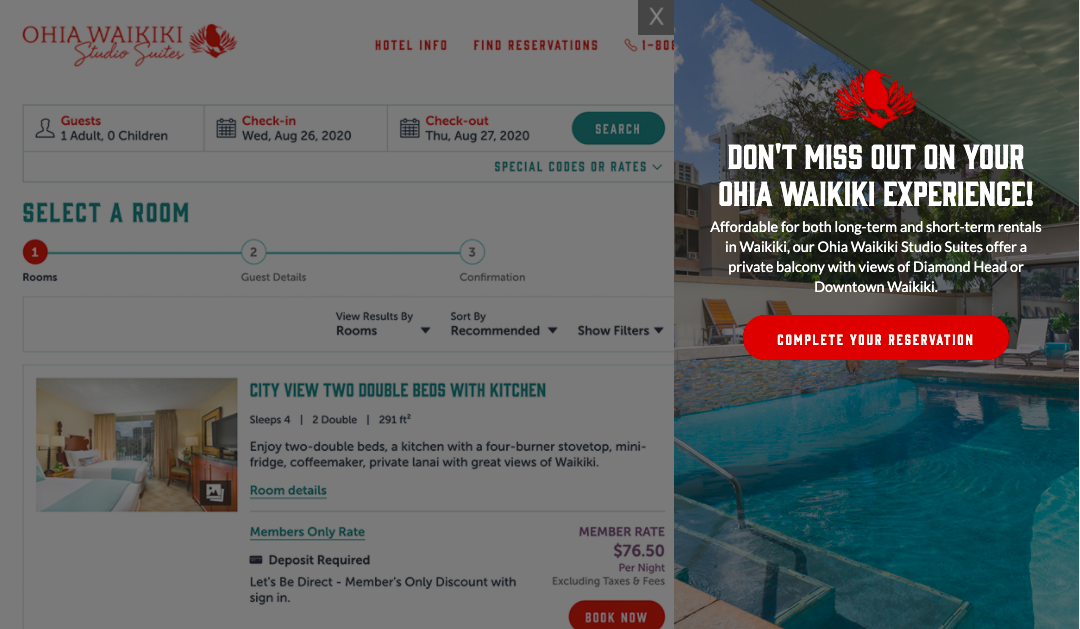 3. Flexibility
As the American Express trends report has shown, people are using the time leading up to their vaccine to plan and book their vacations – even if that means having to cancel in the future. 56% of respondents indicated that they miss traveling so much that they are willing to book a trip even if they might have to cancel. We know this isn't great for your hotel's balance sheet, but how you deal with it can do wonders for your brand image.
During what is still an unpredictable time, flexible booking and cancellation policies can be the differentiating factor between your hotel and the competition. Travelers who are still in the planning phase of their trip will be looking at an average of 38 different websites before they book, meaning if they don't find the security they need with your hotel, they'll take their business elsewhere. You don't want to earn a negative reputation for how you handle booking cancellations. A blow to your brand now could potentially outlive the impact of the pandemic itself.
In 2019, the global travel booking abandonment rate averaged 90.74%. We imagine that it will only increase after 2020. To combat this astronomical abandonment rate, we recommend the use of remarketing emails to remain top of mind with the customers hovering in the research stage. Emails are still one of the most effective ways to remind customers of lenient cancellation policies and promotions, and to get them back on your website. Used in tandem with promobars and onsite popup messaging – which are all priced on a commission model at Cybba- you'll be sure to get customers moving toward booking a stay without spending your entire marketing budget upfront.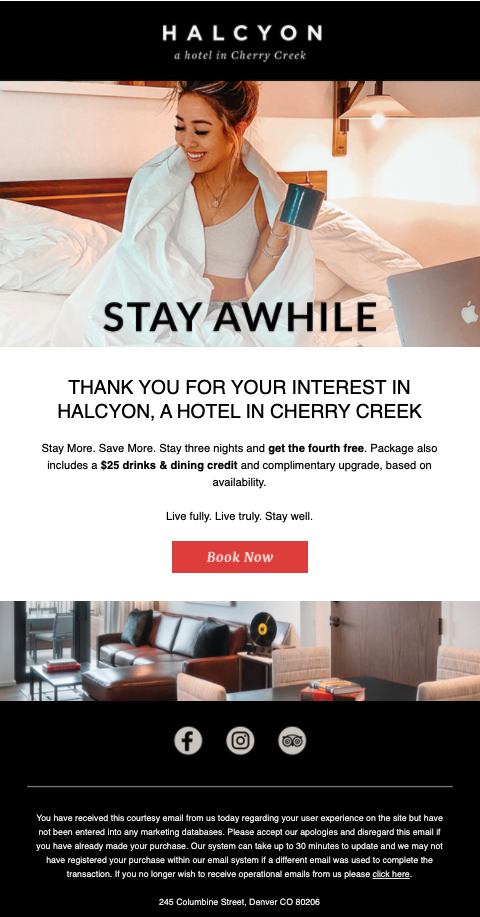 Key Takeaways
Post-pandemic travel pioneers are clear about what they want: safety, privacy, and flexibility. At this stage in the world's reopening, these requirements are non-negotiable. Hotels should take every opportunity to reassure potential customers that they can meet these needs and proactively demonstrate the willingness to adapt to future changes. With a longer planning phase translating into more time for travelers to change their mind about their booking, it is also important for brands to engage with consumers on channels beyond their website, such as Facebook, Instagram, and YouTube. Every touchpoint counts – especially for fastidious planners.
We hope the next few months will provide the travel and hospitality industries the opportunity to revive and regenerate their livelihoods. Showing eager travelers that you understand their needs is the first step in ensuring your hotel isn't overlooked in the lineup.