The good news

–

Advertising and marketing spend have been increasing year over year. In fact,

digital ad spending in the U.S. is projected to rise 13.6% to $240 billion in 2022.
The bad news – Marketers have become less efficient at converting buyers. The global abandonment rate climbed to more than 80% in 2018. How much revenue are you leaving behind?
The bottom line – Digital marketers must find ways to do more for less.
So why are we so inefficient? I've worked with hundreds of clients and digital marketers who say the inhibitors to stronger efficiency are:
Overly complex technical integrations
Site load times
Using too many vendors
Overlap in conversion attribution
Maxed out internal resources
Does this sound familiar?
You've got your advertising and marketing strategies all figured out. Everything is ready to go – your display campaigns are lined up; your website promotions, your paid social ads and your SEM campaign. You have selected vendors who are ready to support aspects of your strategy.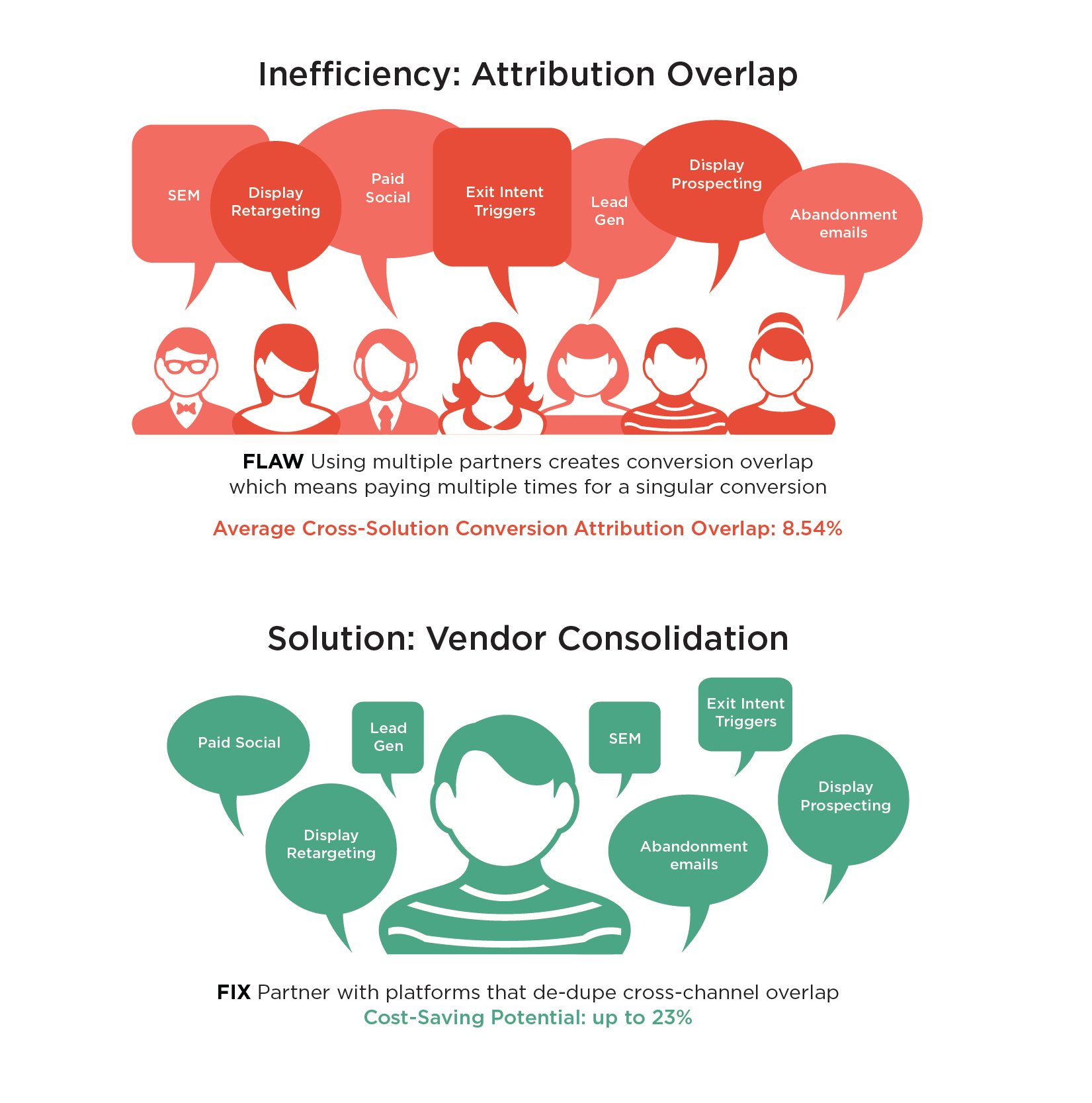 Tackling Attribution Overlap
If your strategy looks like this one, there's a fundamental flaw you've overlooked. With the significant amount of overlap, multiple vendors will claim credit for the same conversions. You end up paying more than once for each conversion. In some cases, we've seen as much as 18% attribution overlap. That's not very efficient.
To minimize attribution overlap, find partners or vendors that can manage multiple parts of your strategy. It will cost you less to achieve the same results. It's the key to doing more for less.
Supporting Internal Resources
In addition to multiple vendors and attribution overlap, "teams stretched too thin" is the next big factor impacting efficiency. How do you reduce vendors, do more testing, and incorporate new tactics and tools without putting a strain on your resources or incur additional costs?
In many cases, you'll need a team with different skillsets, such as a project manager, account manager, analyst, technical and QA support, designer, and media trader to expand your digital initiatives. What we hear at Cybba is "I just don't have the resources" or "we have too many projects going on now to even consider anything new."
Of course, you can always hire more resources or pay for 3rd party services. In fact, a staggering 82% of companies are still paying for outside resources. But that won't increase your ROI or do more for less.
Finding the Right Partner
It's probably best to keep your internal resources focused on projects they can devote their full attention to and deliver the highest quality output. You can also keep your checkbook closed.
The answer to single attribution and increased efficiency is choosing a partner that can achieve more of what your digital strategy needs to deliver at no additional cost to you.
Here are a few things to consider in finding the right partner:
Do they provide fully managed services for the entire campaign?

Do they provide the tools to support User Acquisition and Customer Conversions?
Can they create custom

strategie

s

tailored to your business goals

that go beyond the scope of standard paid media

campaign

s?

Do they offer a pay-per-performance model to remove initial risk factors and up

-

front costs?

How does the vendor use analytics to identify

user abandonment

and begin retargeting to

recover lost sales

?

Can the vendor act as an extension of your internal team?
With the right partner, your costs will not rise but your ROI will. You will enable greater efficiency and success for your internal teams.
As a partner that can provide a full spectrum of digital solutions, and a complete list of complimentary services, we at Cybba have estimated a cost savings of about 6% for our partners. Count us in as an extension of your own team!
Watch video: [See how to optimize every stage of your customer journey]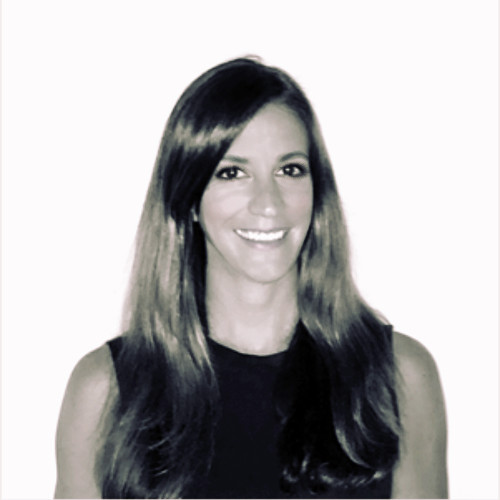 Lisa is Cybba's Vice President, Travel and Enterprise Sales.
For the past five years, she has helped companies in the Travel & Hospitality industry design custom digital marketing and advertising strategies to drive increased performance and conversions.