By all accounts the Travel & Tourism industry in the U.S. is starting to make a full rebound, propelled by the warmer seasons and a high vaccination rate. Of course, there are underlying variables to this recovery. With COVID cases rising and falling periodically, Travel has become an even more unpredictable industry that will experience ebbs and flows in demand more than any other.
Nonetheless, 2022 has proven to be a critical year for travel marketers.
In this new normal, the industry has forever changed and there are still many obstacles to overcome. Travel providers need to rethink how they engage and acquire prospective customers, based on their considerations and motivators in choosing a booking provider.
Travel's Road to Recovery: A Look Back at the Past Year
Domestic travel recovered the fastest. In 2021, with varying COVID restrictions around the globe, travelers in the U.S. felt it was both safer and more convenient to stay close to home. As a result, there were spikes in weekend getaways and short-distance vacations. Short distances, plus varying degrees of COVID-related limitations in air travel, meant that folks were more likely to use their own means of transportation, or through ground transportation providers.
This year, international travel is back, and there are a few factors that are driving this demand. The first being that, after the Omicron variant surge in January, COVID cases and hospitalizations started declining, and we saw a sharper decline in pandemic-related restrictions overall. Consumers saw this as a window of opportunity, however small it may be, to go somewhere they've never gone before – usually outside of their own country – and really pursue the perfect vacation experience. U.S travel searches are way up this year for places like Dubai, England, and Cancun. And people are also willing to spend more on the perfect vacation, spending 29% more on the average booking this year than they did in 2019.
Even during times when COVID cases have risen, international travel intent has remained steady for the most part. It seems as though we've hit a ceiling when it comes to travelers' tolerance for stay-at-home, domestic vacationing.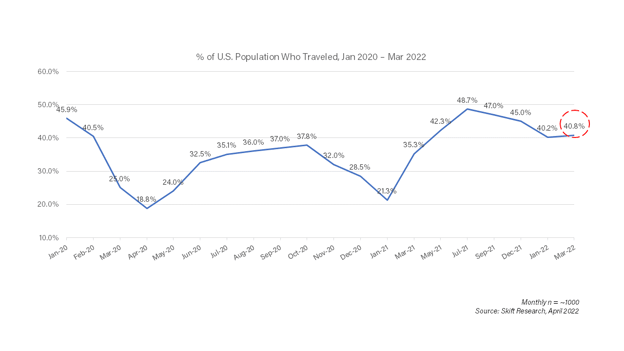 According to Skift Research 40.2% of the US population traveled in January of this year, a steep increase from 21.3% the year prior.
When COVID cases surged in January due to the Omicron variant, the number of COVID hospitalizations hit a 7-day average of 21,526, a record high number .
Travel demand being so high when COVID cases surged is interesting because it indicates that, even during uncertain periods, people are still thinking about and actively planning their future vacations.
Why does this matter?
Remember that travelers aren't going to plan ahead accordingly without all of their needs met. They need reassurance, they need flexibility, coverage, and a fall-back plan.
Travel providers need to be present throughout the year even during slow periods. An always-on, multi-channel marketing strategy is essential. The consumer journey for travelers is now longer and more unpredictable than it ever has been, and brands need to be present throughout all phases of the customer journey to support travelers throughout their decision-making process.
Keep travel consumers informed and stay relevant by offering the things that matter most to them now in this new normal – whether that be scheduling flexibility, cancellation refunds, discount pricing, 24/7 WiFi access, workspaces, etc. Travel is no longer what it was before and your messaging needs to adapt to how it has evolved.
Tips for a Multi-channel Strategy to Drive More Bookings
Video:
There's no better way to convey the value of your destination than with an eye-catching video. Hotels, restaurants, event venues and attractions all have something that retailers usually don't have – and that's beautiful eye catching scenery that is primed to inspire travelers. Capture the tranquility, the pristine, the best parts of your hotelier or business. A video that encapsulates travelers' dream destinations will surely be remembered.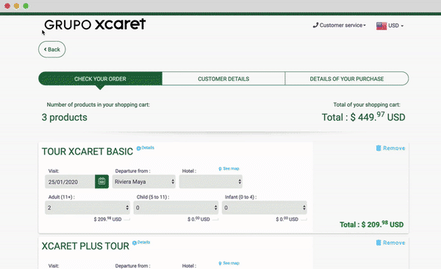 Videos can be used on your website to entice users to convert, like the one above. As a user attempts to exit the checkout page, an onsite tool fires engaging the abandoning user with a video that showcases all the activities that this attraction has to offer. Videos are also a great way to introduce new prospective travelers to your brand through YouTube, Connected TV, or display advertising.
Audio:
The rise of podcasts and streaming platforms like Spotify opened the door for audio advertising opportunities. With more folks returning to work and normal activity increasing, hoteliers and travel providers can take advantage of this increased activity by promoting their brands on local broadcast radio and audio streaming platforms like Spotify.
Moreover, adding geo-fencing tactics to your audio ad campaigns can enhance performance by targeting folks outside of locations near your destination property. By targeting consumers who are more likely to be in-market, such as folks going out to theaters, restaurants, or venues, you're more likely to gain customers who are looking for accommodations or transportation services.
Meta search engines:
Having a wide presence on major search engines like Google, Bing and Yahoo are critical for any brand, but in the travel sector it is also critical to optimize your brand listing on booking engines like TripAdvisor, Booking.com and Travelocity. A great deal of travel-related searches happen on these sites, and it is a great way to promote travel brands and to get in front of customers as they search for prospective hoteliers, airlines or event venues. Moreover, these sites are commonly used for travelers that want to find the best deal possible, so the conversion rates are typically higher than most search engines.
Search retargeting is an uncommon tactic that most travel providers neglect, but there are digital marketing services available that offer a way to retarget users based off of their travel-related search queries and engage with folks with standard or video retargeting ads, driving them to your own travel site! It is a great way of identifying new in-market users and driving them through the marketing funnel with display and video retargeting ads.
Attribution Overlap:
With excess resources and vendors, attribution overlap is a problem many travel brands fail to see but ultimately hurts their bottom line, as they end up paying multiple times for each conversion.
So how can you maximize the return for each dollar spent? Partner with a holistic platform of solutions and managed services that can make this possible. Consolidate your efforts with a single vendor that measures with single-attribution to de-dupe cross-channel overlap. With a combination of solutions - onsite and email and display retargeting - touch upon every stage of the customer journey. With those three working in tandem to keep the engagement going, you're only paying once per conversion and maximizing cost-savings with a most efficient optimization strategy.
Interested in getting started with a multi channel, single attribution digital strategy? Contact our experts today!