Consumer confidence returned in April and is expected to continue throughout the summer. Retailers can expect an 15% increase for online sales, and a 2-3% increase for in-store sales.
Mothers and Father's Day generate more than $38 billion, with 34% of those purchases made online. Memorial Day marks the start of the summer with an anticipated whopping $36 billion spend. Have you planned accordingly?
Here are some tips to help you take advantage of seasonal upticks in spending across the retail, travel, and hospitality industries, and ensure that you make the most of consumer confidence throughout the parade of summer celebrations.
Tip 1: Take Advantage of Seasonality
Retailers cannot only rely on the winter holidays to boost their sales. They must align their promotions with other seasons or celebrations to amplify their marketing efforts. One of the best examples of this tactic is the creation of Spring Black Friday for the home improvement industry.
To generate the same spending frenzy as winter Black Friday and Cyber Monday, Home Depot and Lowes declared Spring Black Friday a landmark event. Other companies, like eBay, followed suit. The association with Black Friday promotions signaled 'big savings' to consumers. This seasonal campaign has driven an uptick in spring spending, and secured Spring Back Friday a place on the annual 'major sales events' calendar.
Customer Success –

Denihan Capitaliz

es

on Seasonality
Luckily for the travel industry, there are several holidays and celebrations that can be leveraged to increase sales.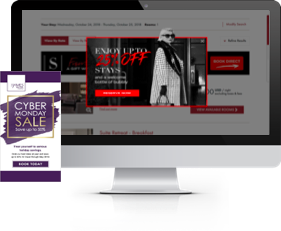 The Denihan Hospitality group of luxury, boutique hotels sought a solution to stay ahead of its competition and to ensure year over year growth, especially during the holiday season. The group partnered with Cybba to develop a complete remarketing program that increased bookings to fill room occupancy.
Read: [Case Study] Denihan
These campaigns were enhanced by creative that appeared native to the Denihan brands and highlighted the time-limited offers. Associating the offers with the winter holidays – even by mentioning Cyber Monday and Black Friday – helped cultivate consumer excitement and ultimately increased hotel bookings.
Customer Success – Mrs. Fields Engages Consumers

Across

All Seasons
Taking advantage of seasonality also requires an understanding of your industry's 'off-season.' Mrs. Fields knew when their products would be most in demand, and worked with Cybba to create campaigns that would also keep sales steady throughout their 'slow season.'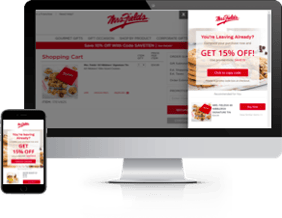 Read: [Case Study] Mrs. Fields
With Cybba's help, Mrs. Fields drove engagement to their site by using a promotional overlay with recommended products. They promoted their seasonal products, such as the Easter Basket of Bites pictured here, during the respective season. By using data analytics and creative refreshes, they were also able to promote their standard (or non-seasonal) products that they knew would interest the consumer during the slow season.
Tip 2

: Use Custom Targeting Strategies to Generate Brand Awareness
With nicer weather, consumers are out and about and patronizing businesses via channels that are most convenient for them -- whether in person or via mobile device or desktop. But you can't wait for customers to come to you. Paid social and programmatic campaigns help to generate brand awareness, and connect you with the right customers with high purchase intent.
Paid Social

Advertising
Paid social is an incredibly effective way to amplify branding efforts where consumers are spending their time. Advertising on social networks, such as Facebook, Instagram, and LinkedIn, allow you access to broad, but relevant customer reach.
You can highly engage users, use hypertargeting to attract your ideal customer profile, optimize campaigns across channels and devices, and earn the best industry Return On Ad Spend.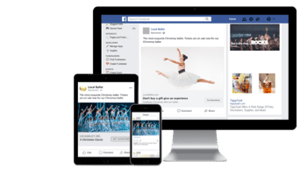 Programmatic

Display Advertising
Like paid social, programmatic display advertising allows you to find customers where they are. Some key capabilities include contextual targeting, behavioral and demographic targeting, and ad placement alongside relevant content.
Programmatic campaigns provide full transparency, brand safety, and the ability to allocate your ad spend effectively.
Once we get customers to our website, what can be done to get them to purchase?
Tip 3: Utilize Retargeting for Seasonal Conversions
Utilize the full potential of Cybba's retargeting suite to drive your campaigns and convert high-intent shoppers on your website. Keep your branding and messaging consistent as you add multiple touchpoints for onsite engagement, email remarketing, and display retargeting. The net effect in re-engaging shoppers who abandon is an uplift in conversion rates and an increase in online revenues.
Customer Success – 365 Tickets

Drives Online Sales with

Retargeting
As a leading provider of tickets to over 1,000 attractions around the world, 365 Tickets wanted a re-engagement strategy to create a magical user experience for customers o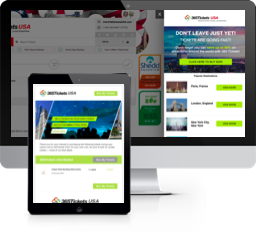 n their site. By partnering with Cybba, 365 Tickets implemented a strategy to:
R

e-engage

visitors at the point of website abandonment

Retarget abandoned users to complete their purchase

Increase the average order value of online ticket sales
Read: [Case Study] 365 Tickets
The retargeting strategy included personalized onsite messaging, cascading email campaigns, and display retargeting ads with location-based creatives. By converting abandoners to purchasers, 365 Tickets generated significant additional ticket sales, and 33:1 Return on Ad Spend.
The retargeting strategy included personalized onsite messaging, cascading email campaigns, and display retargeting ads with location-based creatives. By converting abandoners to purchasers, 365 Tickets generated significant additional ticket sales, and 33:1 Return on Ad Spend.
For more information on the seasonal spending opportunities on the horizon, view our Spring Spending and Memorial Day infographics. You can also schedule a demo of Cybba products to utilize the full marketing funnel for your seasonal promotions here.