There are 41 days until Christmas and this year, the days between Thanksgiving and Christmas are even more precious than in years past. No, it has nothing to do with religion, or family, or even a movement to return to "simpler times". With Thanksgiving falling in the last week of November, there are six fewer days between Thanksgiving and Christmas. This means there are six fewer days to generate the historical 50% of yearly digital revenue generated from Black Friday and Cyber Monday deals. In other words, holiday sales strategies must be modified with caution and care to ensure that yearly revenue goals are still met despite changes in consumer timelines.
While we usually cannot control the impact of the calendar year on our sale cycles, there are ways to ensure that the remaining 26 shopping days to Christmas are optimized to the fullest extent. One of the most reliable ways of engaging and impressing customers is through personalization. In a 2016 Accenture study, a reported 65% of polled consumers said that they are more likely to buy from a retailer that sends them relevant and personalized promotions. Since then, personalization has become even more commonplace. Now, a competitive advantage comes from the level of sophistication of your personalization tactics.
The New Customer Journey
Gone are the days of the linear customer journey. The new customer journey is long and winding, with pitstops at different devices and platforms. By sharing the personal data that corresponds to their journeys, consumers expect companies to know not only where they are in the decision making process, but what types of offers they want to see. If this data is leveraged properly, the consumer should experience a truly frictionless personalized experience.
What Does Personalization Look Like Today?
You won't win over customers by simply adding their first name to the subject line of a promotional email anymore. Everyone can and should be doing that already. Personalization implies a holistic understanding of customer demographics, preferences, and behaviors.
With the amount of data points comprising a consumer profile, product recommendations on onsite engagement tools can be customized based on a customer's precise location in the customer journey. In the example below, there are four different onsite engagement messages that correspond to the level of familiarity a customer has with a brand ranging from 'unaware' to 'purchase' intent. Instead of serving a discount code to every person who abandons the website (a popular and effective approach in the past), these personalized messages keep consumers on the website by providing useful resources based on their prior behavior. As a consumer spends more time engaging with a brand, messaging evolves to reflect level of purchase intent. These onsite messages are also displayed on mobile devices, which are predicted to make up 20% of holiday purchases this year.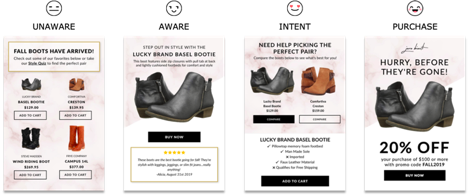 This is just one way that personalization can enhance the customer journey for both businesses and customers. With the implementation of thoughtful personalization tactics, businesses can begin to build relationships with customers even before the final countdown to Christmas. With increasing visibility into the customer journey, smart brands will be able to target customers at the right time and in the right place this holiday season.
For more personalization best practices, watch our "How to Harness the Power of Personalized Marketing Campaigns" webinar replay or reach out to a Cybba specialist.