A sometimes overlooked generation in marketing, Baby Boomers are actually the second most populous group in the U.S. at an estimated 73 million. Recently, they've been gaining more and more attention in the eCommerce world, as the digital transformation that accelerated in 2020 was fueled in large part due to older age groups having to adapt to modern technology.
As a result, Boomers are now generally much more accustomed to a variety of online activities like conducting research, browsing for products, and socializing with friends and family. In fact it might surprise you to learn that Boomers make 20% more online purchases than millennials!
What makes them particularly interesting to brands is their spending power. Born between 1946 and 1964, many Boomers are in retirement or close to it, and the hard work they've endured for many decades has paid off: Boomers are estimated to hold as much as 70% of the U.S.'s disposable income. They spend more than $548 million annually, $200 million more than Generation X, the next highest spending age group.
As they reach their twilight years they will look to do things like seek out adventurous and exciting experiences., find new hobbies and activities, and spoil their pets and grandchildren. Industries like travel, luxury, and entertainment in particular should pay close attention to the Baby Boomer generation.
Where they spend their time:
When thinking of where to allocate budget to engage with Boomers, think of more traditional means to do so. They are the age group that is going to avoid the latest and hottest trends (what's a TikTok?) and stick to what has worked for them in the past.
Email:
Like Baby Boomers, email has also been around for a while. They've been accustomed to using email in both work environments and in their personal life. 95% of them favor email over messenger. So they're not likely to be turned off and unsubscribe from your newsletters or marketing communication as much as their younger counterparts.
Search:
They are also much more likely to use search engines over social media to conduct research. 96% of Boomers use search engines as a resource to gather information. Optimizing your website for SEO and investing in paid search ads will both be effective ways of reaching these folks.
Offline:
Boomers will be more receptive to offline advertising more than any other age group, and is perhaps the biggest differentiator between them and other generations. Mediums like radio, print, mail, and television have all been a part of Boomers' daily lives and are well integrated into their lifestyles, so utilizing them in marketing strategies in tandem with other digital campaigns is likely to pay off.
Social media:
Be selective with how you target Boomers on social. While they don't typically look to buy products through social networks - only 8% of them trust social ads to recommend products when shopping - they still spend an awful lot of time there, especially on Facebook. They use it mainly to connect with family and friends, but Facebook is still a good avenue for brands to introduce products and services to Baby Boomers, simply because of the amount of viewers you can expose your brand to.
While social proof is valuable towards instilling confidence in a purchase, partnering with social influencers to introduce a brand or product is not recommended. After so many years of doing things a certain way, they know what works well for them and what doesn't. Boomers are confident in their personal decision making, so they're unlikely to take much stock into influencer recommendations.
Alternative: Using customer reviews or testimonials near the lower part of the sales funnel at checkout or shopping cart pages can be very effective as a final tipping point in gaining a sale.
How to engage:
Video:
Video has always been an effective and engaging way of attracting consumers to introduce new brands and products. Boomers are no different in this regard. In fact, YouTube is surprisingly popular among this age group. 70% of Boomers enjoy watching videos about products and services. Like other age groups, Boomers will be receptive to video – but unlike their younger counterparts they'll be much more patient and willing to watch a 30-second video, rather than a fast-paced video to invoke emotion. So if you are advertising on YouTube and targeting an older demographic, data would suggest to avoid the 7-second bumper ads, and use more slow-paced videos. These can be used to inform and educate by explaining how products work, how they can be assembled, or how it can improve their lives. Luckily for Baby Boomers, they do not have the abysmal 8-second attention span of Gen Z.
Mobile:
While desktop is the preferred device of Boomers to purchase products, they still spend a surprising amount of time on their mobile devices. Forbes Magazine reports that Boomers spend an average of five hours per day on their mobile devices. Where they differ from Millennials is the types of activities they engage in on mobile. They typically use mobile to respond to emails, browse social media apps, or check weather and news alerts, whereas a group like Millennials will use mobile more for texting, surfing the web, or to listen to music or podcasts.
Personalization:
Brands need to be careful with how they personalize experiences. Boomers are more distrustful of marketing technology and data collection than other generations, so it's important that if you do decide to personalize experiences, you are transparent with how you are doing so.
Best marketing practices:
What do they value in a brand?
Be concise, and straight to the point. Avoid things like technical jargon, emojis, abbreviations, or slang. Catchy headlines aren't critical towards gaining their attention, but text-heavy messaging with useful information is likely to get them to a next step.
Be human, and adaptive to their preferences. Boomers prefer to talk face to face, so having a customer service rep nearby is recommended. If they get frustrated with service, they aren't as quick to jump to another brand as much as younger folks, but if you make the effort to acknowledge their frustrations and explain how you can do things differently to better serve them, they are likely to continue doing business with you.
Along with stellar customer service , a simplified checkout process are keys to winning Boomers' business. An easy checkout process with assistive and native onsite tools helps remove obstacles and gets them through the checkout funnel.
Take mattress company Luma Sleep, for example. A large portion of their customer base is made up of Baby Boomers , and you can see the user experience on the company website reflects the needs of this audience.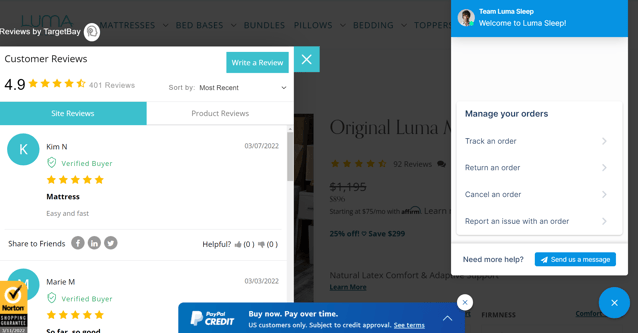 While searching for products, customer reviews and customer service apps are readily available, giving the consumer a sense of confidence in buying the product, and a sense of security knowing that a real person is there ready to answer questions.
Recommendation::
This group's wider acceptance of digital in recent years, coupled with the fact that they tend to be more deliberate with their purchase decisions and therefore have longer buying cycles, would suggest that once they are in a purchasing mentality they will cover several different channels over longer periods of time. This requires marketers to take an omni channel approach with Baby Boomers. So mix in a healthy balance of top, mid, and lower funnel campaigns to cover all stages. Use Facebook and other social media for more brand awareness initiatives; paid search and YouTube as direct response channels. Email marketing and onsite engagement tools can be used as last-attempt conversion tactics, or to boost loyalty, increase order value, or just to stay connected.
After they become a customer, they will welcome the post-sale efforts you make to maintain a loyal relationship.
While Baby Boomers are just one of six living generations, understanding the differences between age groups can help you build a better targeting strategy. Relevant, one-to-one type messaging that speaks to specific age group mentalities will create more impactful touchpoints and lead to more successful campaigns.