Every person at Cybba plays a key role in our success. Now in the Employee Spotlight is Mike Baldino. Read about his journey at Cybba and his insights on what has contributed to his success as a QA Analyst.
How long have you been in this position?
I've had this position for almost 2 years.
How did you start at Cybba and what made you want to join?
I was looking for a job change and Chris [a Cybba developer] recommended that I look into Cybba. A week later, a QA position opened up and I went for it.
What tips would you give an analyst entering the industry?
Be flexible. You never know what curveballs will come your way. And pay attention. God is in the details.
What do you enjoy the most about your career?
The freedom. It's nice to be able to work at my own pace and not feel rushed all the time.
What is something that most people don't know about you?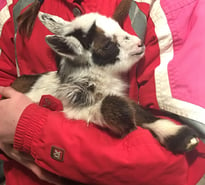 My family has many animals: 8 goats, 18 chickens, 4 dogs, and a cat. The newest addition is a baby goat named Rosie (pictured on the right), who I baby sat a few weeks ago.
What is your favorite place in Boston?
This isn't quite 'in Boston' but home is definitely my favorite place. There's nothing like getting home after a long day. Otherwise, I enjoy wandering around the city when the weather is nice.
What are you currently binge-watching?
I haven't started binging anything new yet, but I just finished Umbrella Academy. I'm excited about season 2!
How has Cybba helped in your career development?
Cybba gave me an opportunity to get started in the technical side of the tech industry.
What is your proudest moment at Cybba?
When I started, Cybba was going through some major transitions. We pulled through it together and I really value the relationships that I developed during that time.
If you could switch your job with anyone else within Cybba, whose job would you want?
I would want to work as a developer. I'd enjoy being part of the building process rather than just troubleshooting.