A dynamic product recommendation engine displays a carousel of products and is usually embedded as a widget on product or category website pages. The recommendations provided are ideal for the mid-funnel of the customer journey. Brands can deploy automated intelligent tactics while the user browses the product catalog, to enhance the experience, drive conversions, and increase AOV.
To populate the most relevant items to the user, the recommendation engine combines both behavioral events and website data, including:
the lifecycle stage of the shopper
the product or category pages visited
items viewed or added to cart
average order values of past purchases
onsite search queries
newly added, trending, or popular products
An algorithm is applied to the engine to determine what type of recommendations will be displayed (Trending Products, Also Brought Items, Similar Items, Recommended for You, Top Sellers, etc.)
Unlike the static product feeds you often find on retail sites, Cybba's AI-driven product feeds have over a dozen different configurations. They display items based on who the users are and what they do and not just on the popularity of other products or other site-wide factors. When you apply user behavior to your onsite tools, it adds convenience, familiarity, and relevancy to the shopping experience.
How can you use it?
Deciding if a dynamic product feed is a good fit for your site depends on your business objectives. The primary requirement for a meaningful product recommendation engine is at least 50 products in your online store. The data related to each product including: SKU, product image, descriptions, price, etc is continually analyzed to make the up-to-date recommendations in the feed.
We'll explore the mid-funnel from the consumer perspective to understand how dynamic product recommendations can best serve their needs.
Product Discovery
Suppose a user visits a specific product category page on your site. After two or three visits without a purchase, you can begin displaying customized offerings tailored specifically to this user. Suggested criteria to pull for this feed are products or categories viewed, items added to cart, search query keywords, and trending or highest-converting products.
While the user has shown enough interest in your brand to return to your site, they haven't taken the next step towards a purchase. You can proactively help the user during the research phase of the customer journey with recommendations.

(Rue 21)
In the example above, Rue21 compiled data about the user's interest in skinny jeans to populate a carousel of trending items from the same category that would be most relevant to the user. The interface is natively embedded into the site, giving you the best chance at a conversion without compromising UX.
Browse Abandonment
The product feed can also fire on exit intent overlays as a final attempt to motivate the user to complete a purchase. If a user still abandons, it is usually because something specific to the product is preventing the purchase- ranging from product pricing, features, compatibility, etc. These concerns often lead to comparison shopping, either on your site or a competitor's. Regardless of their next stop, the product feed can reinforce confidence in the buyer's decision at this point of exit intent.
Adding additional details to the product feed, such as reviews and ratings, price-drops, or real-time inventory levels, can further motivate a purchase decision.
In the example below, the product feed triggers on exit intent and displays the most relevant products to the abandoning user with context and descriptions for each item.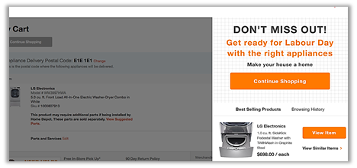 At this stage, we recommend displaying previously viewed or searched for products, highest-converting products, or best-reviewed products. The primary goal is to renew user consideration and interest to prevent the customer from leaving the website.
Abandonment often occurs due to the paradox of choice. Manually searching for a product on a website with an extensive product catalog can be frustrating and time consuming. A smart website knows what the user wants and prevents this frustration by using consumer insights to show relevant products.
Upselling/Cross-Selling
A product feed used for cross-sell and upsell opportunities can fire to returning customers as they browse your site or at checkout pages. It will typically promote products that are frequently brought together with the item in your cart.
At this stage in the customer journey, product feeds are less about persuasion and keeping users on site, and more about increasing AOV and building loyalty. The customer already sees your brand as a good fit for at least one of their needs, but this tool will help the user identify what else you can offer them. Give them the opportunity to become immersed in all the things your brand has to offer with data-driven recommendations.
In this example below from Cufflinks.com, the user is considering purchasing Star Wars-themed cufflinks. The recommendation engine analyzes attributes that the selected item shares with other items in the product catalog to make the recommendation. The recommendations not only align thematically, but if purchased, would help complete an outfit that the user could have been considering. This product feed also makes the upsell process as seamless as possible by providing a real-time look of the updated shopping cart.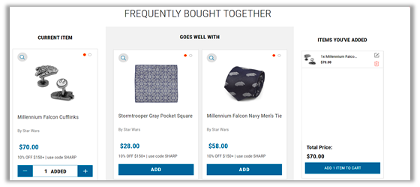 Natively embedded into the site, it is both below-the-fold and unobtrusive. It doesn't interrupt the purchase process, it just adds value to the user experience by offering other products of interest.
To Conclude
Dynamic Product Recommendations are effective because they demonstrate an understanding of user behavior and preferences and commitment to an effortless user experience. The examples above illustrate just a few ways the tool can be used, but Cybba can use insights from a product feed to get the best result for a user in any given scenario. The more data gathered on your site, the more personalized and predictive the product feed can be.
Cybba specializes in customer journey marketing, identifying intent and behavior at each stage, and deploying customized solutions to eliminate conversion obstacles and boost revenue. Get in touch with a sales rep today to learn how our tools can best fit into your strategies.