Spoiler alert: It's more than "They're annoying."
In theory, display advertisements are pictures or videos placed on a website that attract eyeballs to your brand. Yet in practice, display ads have an average CTR of less than 0.6%. Still worse, is that 86% of consumers suffer from "banner blindness," a phenomenon where they pay zero attention to online ads. Obviously this hurts digital advertisers. So, let's learn why people are ignoring your display ads and what causes "banner blindness."
It's estimated that roughly 27% of internet users are leveraging ad blockers. This is why: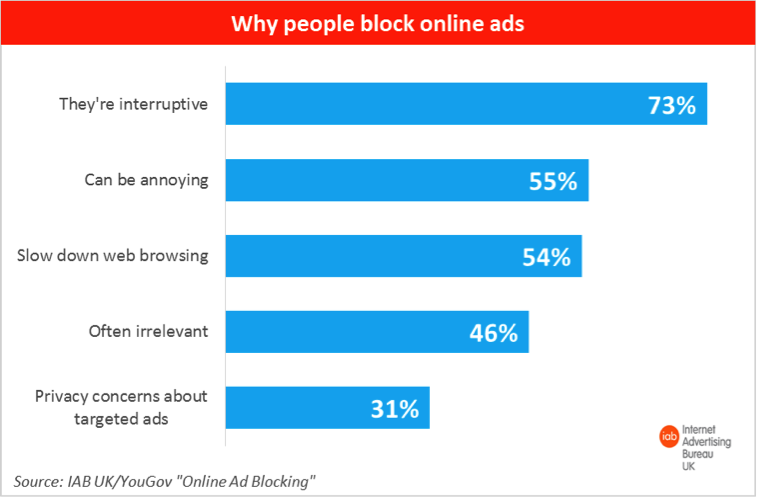 They're Interruptive
Especially pop-ups. 70% of Americans are annoyed by pop-up ads, including email subscriptions and gated content forms. Also: 82% of people have closed a webpage because of an autoplaying video ad. Effective ads must be unobtrusive and integrate seamlessly into a site.
Can Be Annoying
Not all display ads are created equal, and consumers do not like flashy, sound-loaded ads. In fact, very simple banners account for 80% of clicks Even the size of a banner ad can impact a response. AdWeek shows the most agreeable ad size is a medium rectangle: 300x250 pixels.
Slows Down Web-Browsing
Page loading time is a major factor of page abandonment. The majority of consumers wait 6-10 seconds for a page to load. When pop-ups and extra-code on sites slow pages down, consumers get frustrated.
Often Irrelevant
Remember that consumers do not read sites. We scan. We are so good at scanning that we are trained to ignore content that is not relevant to us, what's become known as "banner blindness". Thus, throwing your ad on any old site and not segmenting your messages for target audiences is wasting money.
Privacy Concerns About Targeted Ads
Last year, Google took down 1.7 billion ads across the internet because they violated Google's advertising policies. Even with retargeting, a display advertising strategy that can increase conversion rates by 70%, 63% of consumers see ads specific to them as an invasion of privacy.
When creating your display ads, keep these statistics in mind.
For tips on creating the most relevant, unobtrusive, and high-performing display ads, contact our experts.
Additionally, don't miss future tips on display advertising and subscribe to our blog to get them right in your inbox.