Last year, total spending for K-12 and college back to school shopping was $75.8 billion. In fact, the back-to-school shopping season is the second biggest time of the year for retailers, after the winter holidays. In this blog, we'll look at some of the biggest trends in back to school marketing and discuss how to take advantage of these trends to increase your conversions.
When Is the Season?
Back to school shopping starts early, with 68% of parents receiving classroom supply lists at least a month before the first day of school. 73% of back to school consumers shop a month before school starts, and over 25% of shoppers begin two months before school starts.
When analyzing your sales and conversions, keep in mind that various states have different first days of school, with some as early as the end of July/first of August, and others beginning after Labor Day. Families will also continue to shop until after the first day of school, so be sure to stay fully stocked and consider offering additional deals at the end of the season.
Where Do Families Shop?
According to the National Retail Foundation, 61% of back to school shoppers will go to discount stores. This is due to parents searching for deals and hunting for the lowest priced priced items.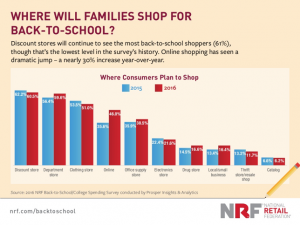 30% of parents do their shopping online, by using Amazon before other websites. This is because Amazon offers the opportunity for one-stop-shopping and boasts the best back to school deals and offers.
One way for your site to compete with what Amazon can offer is to personalize your messaging as much as possible. Customers love to feel valued and offering them unique, individual discounts or personalized product suggestions will help you optimize your conversions and combat shopping cart abandonment.
What Deals Do Families Look For?
With 77% of families required to buy classroom supplies, budgeting is an enormous consideration. 65% of parents will search for the best back to school deals, visiting as few as 3 stores before making a purchase. It's no wonder that shopping cart abandonment is high during this season!
Online, whether or not retailers offer free shipping can make or break a deal. In fact, 84% of families won't make an online purchase without it. If you can offer free shipping, make sure you do.
Technology is one of the biggest buys for families during this season, with 25 percent of families investing in tablets, 21 percent in laptops, and 20 percent in smartphones. This offers technology companies a chance to be strategic in offering back to school incentives, and for stores of all kinds to stock up on electronic accessories to upsell products and increase back to school sales.
After tech, the biggest purchases are in clothes, shoes, and accessories. Since kids want to seem cool, it's unsurprising that 59% of shoppers say their child's preference is a major factor behind purchase decisions. When creating your back to school marketing, be sure to appeal to children and major child influencers such as television characters, music artists, and child-actors as much as you appeal to the parents.
Back to School Marketing Tips
Be present on social media. Remember that word of mouth and satisfied customers sharing purchases on social media are enormously beneficial to your marketing efforts. Additionally, 73% of adults use Facebook. Promoting your products on Facebook can help your customers know about them and is the best ROI for your social media advertising.
Offer incentives. According to a survey from Loyalty360, 59% of U.S. mothers would be more receptive to email marketing if it included additional offers.
Showcase. Make your store seem like a one-stop-shop. Create your own back to school shopping lists and feature your go-to products in your store, site, and ads. If your store seems like the optimal place to shop, then it will be.
Mobile-first. People will use their phones to compare deals and look up products. Make sure your mobile user-experience is at its best, and optimize your marketing even more by including "back to school" as a featured keyword for your products and website.
Here is an illustration of the significant role that mobile devices have this shopping season: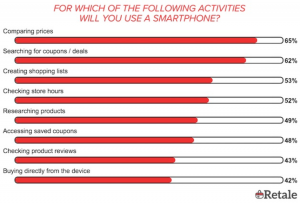 Use this information to spice up your back to school campaigns or to get ideas for next year. The back to school season peaks in August but continues until after the first-day of school with last-minute shoppers. For more information on how you can build a campaign and increase your conversion rates, contact our experts for a free digital marketing consultation.