Promo bars are great add-ons to your website. They boost your promotions and key messages to customers to prevent cart abandonment, drive incremental conversions, and deliver increased revenues. Their design, format, size and placement are fully customizable. Endless use cases are possible to catch your customers' attention and maximize your website real estate.
Push Promos, Events and Trending Products
The strategic placement and design of your promo bar can be used to get your customers excited about your current promotions, free shipping offer, and any other special messaging. You can also use the promo bar to push email reminders triggered to send when an item is left in the cart.

Create Urgency
Include a countdown timer in your promo bar to incentivize customers to take advantage of a time sensitive offer or expiring promo code. This is a great way to create a sense of urgency, and drive impulse buying.


Acquire Email Addresses
Use the promo bar to boost your email list and increase customer acquisition. Email addresses are valuable assets for Marketing communications and lead generation outreach. They allow you to communicate with your prospective and existing customers across your different Marketing campaigns and channels (newsletter, nurture campaign, paid social, remarketing, display advertising, customer surveys, etc.). Email addresses also enable you to identify your prospective customers across devices, and reach them where they are on mobile, desktop, tablet, etc.

Survey Customers
As visitors browse your website, understand their user experience, or ask any other market research questions through our promo bar. Survey all site visitors, or target customer segments based on their onsite behavior.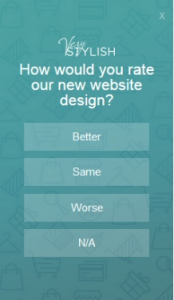 Sample questions that may be of interest include:
How did you come to our site?
What is the main reason you came to our site?
How satisfied are you with your online experience?
What is your opinion of our new product?