Millennials hit the housing market over a decade ago, but they are just now comprising the largest portion of homeowners by age in the US by more than a third. Most Millennials first became homeowners by settling into starter homes, with many purchasing older homes in need of repair or smaller homes onto which they could build. Research conducted at HomeAdvisor confirms this trend: Millennials are doing a greater number of home improvement projects each year than any other age group. This demographic juggernaut is expected to drive billions of dollars to the home improvement industry this decade as more Millennials become homeowners and their incomes and home equity rise.
What's Behind this Trend?
Most Millennials are now at least 10 years into their career, so they are beginning to make more money. This would usually be when a generation does their best George Jefferson impression and "moves on up to the upper east side," but a lack of housing inventory coupled with inflated home prices and rising mortgage rates has them renovating their existing homes instead. According to HomeAdvisor's 2018 True Cost Survey, Millennials are more likely than any other generation to remodel any part of their home. They're twice as likely as baby boomers to complete bathroom and kitchen remodeling projects, and have earned the nickname the "renovation generation."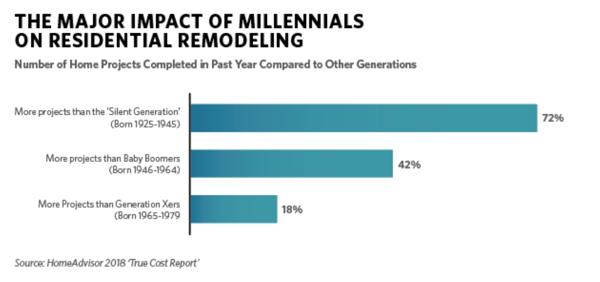 Just as their renovation behaviors differ from those of Generation X and Baby Boomers, Millennials have their own ways of conducting their due diligence on homes service providers. As a home service provider, you may need to remodel your own marketing strategies to reach this market. If you have relied on word of mouth alone to build your current clientele, you'll need a different toolset to build trust with Millennials and make your brand stand out among the thousands of contractors out there.
Prospecting New Millennial Customers
The first step in building a new Millennial audience is to showcase your brand. 62% of Millennials said they'll only use a brand that says something positive about themselves compared to 46% of Boomers. Iconic brands like Pepsi, McDonalds and Reebok were able to build awareness through television ads during the 80's. Smaller brands were able to promote themselves locally through word of mouth and individual relationship building. Neither of those two options are available to small to mid-sized businesses anymore.
Today, there are many more marketing channels on which to promote your brand and build your fanbase, such as social media, content marketing, and email. With the boom in video streaming services, marketers can more affordably promote their brands to their desired audience through Programmatic Video Advertising . These ads are served on streaming services and internet connected devices used by the "cord cutters" - a group composed primarily of, you guessed it, Millennials. Home Service companies can serve programmatic video ads to their desired audience as they watch their favorite programs, documentaries, and even live sports.
Major sporting events have been on hold in the US due to the coronavirus pandemic, but digital live sports viewership is expected to rise more than 14% this year thanks to continued organic growth and accelerated cord-cutting. According to The Marketer's report on digital sports viewers, 36.5 million people in the US will watch live sports digitally this year instead of through traditional cable providers. This includes individuals of all ages who watch live sports monthly during at least one sports season (we do expect some live sports to return later in 2020). Almost one in four (23.7%) US live sports viewers will watch on streaming channels this year.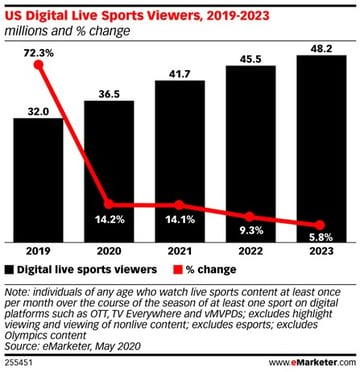 Email Capture and Engagement on the Page
Now that you've put in the work to get Millennial homeowners to your website, you need to keep them there. Home services contractors should use tools to capture the attention of these consumers to keep them on their site longer and to collect information about them to facilitate proper follow-up conversations. Orkin Pest Control builds trust and engagement by educating the customer. A homeowner can find information on virtually any household pest by visiting their website.
A good home services website needs something to hook customers and differentiate themselves from competitors. Empire Today offers financing to their customers and an interactive and easy to navigate online scheduler. Cybba technology allows business to create similar digital touchpoints. Our onsite engagement solutions can be installed easily on any website to deliver relevant messaging to homeowners to keep them on the site longer and, eventually, schedule an appointment. These tools fire at the first sign of exit intent or a prolonged idle period and serve custom branded messages to keep users engaged.
The most effective home service/improvement company websites have lead forms for a "Free Quote" or to "Schedule an Estimate" in exchange for basic contact information such as customer name, email, and phone number. Capturing email addresses and phone numbers are vital for follow-up. Email marketing remains to be the most scalable and valuable form of outreach. However, most consumers are reluctant to provide their phone numbers, so these forms are often abandoned before they are submitted. Cybba's onsite tool can capture email addresses by keystroke so that valuable information isn't lost. Email addresses are captured pre-submit and personalized messages are sent to the abandoned website visitors to return to the website.
The future of spending is Millennial and we speak fluent Millennial here at Cybba. Whether its advertising on the stream of your local MLB team or capturing the crowd that is visiting your website with our onsite engagement tool, we can customize a marketing strategy to your needs. If you are a home services provider wanting to reach this invaluable market using these tools reach out to a Cybba digital specialist today.