We all know and agree about the importance of customer loyalty. However, marketers don't always keep this in mind when their "hunter" mentality kicks in and they are focused on new customer acquisition.
Let me start with 3 statistics that highlight the impact of building customer loyalty and delivering customer service.
Acquiring a new customer is anywhere from 5 to 25 times more expensive than retaining an existing one, depending on which study you're looking at and what industry you're in.
Increasing customer retention rates by 5% increases profits by 25% or more.
Do I have your attention? Now let's look at 3 easy ways to increase revenues by growing your customer loyalty and customer retention rate.
Post Sale Promotions
A good way to convert first time buyers into repeat customers is to incentivize them to purchase again. After purchase confirmation, offer them an incentive such as a discount on their next purchase or a free complementary product. If you want to get more in exchange for a discount, apply conditions for your promo code reveal. Ask your new customer to provide feedback on their online shopping experience, or have them sign-up for your promotional emails.
Social Sharing
Capitalize on the good will of your first time buyers by prompting them to share the excitement of their new product purchase. Social sharing is a good mechanism to raise brand awareness, and gain free earned advertising. Consumers implicitly trust recommendations from friends. Customer acquisition rates are 2.1x higher for visitors acquired through social referrals. Here again, you can persuade your customers to share their purchases with their network in exchange for a discount on their next purchase. Not only is it a way for you to get more shares, but it also incentivizes your first time shoppers to buy from you again.
Paid Social
Consider the stats below on the impact of social media.
57% of people said they are more likely to buy from brands they follow on social media
75% of people said that they have made purchases based on something they saw on social media
Do I need to say more? Of course, the first thing is to have an active presence on the main social media sites. There are 2.23 billion global monthly active users on Facebook, and 800 million on Instagram. Social media is a great platform to reach people, but it is getting more difficult for brands to gain organic growth and traction.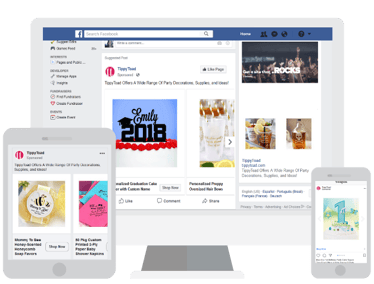 Even with a strong customer base, there is so much content published that the visibility of your organic posts in your followers' news feeds is low due to the competitive environment. Leverage paid social campaigns to supplement organic posts to get the attention of your audience. Use social media ads to match your brand voice, attract your target audience to your page, and build brand loyalty.