Michelle Daigle Telian, Strategic Account Manager at Cybba, offers her insights on the Cybba – Pepperjam partnership.
Cybba is a member of Pepperjam's Partner Ecosystem working closely together for the past three years. We fuel incremental transaction activity by re-engaging with high-intent audiences through onsite remarketing and retargeting solutions -- all on a pay-for-performance model.
Cybba and Pepperjam account strategists work hand-in-hand to develop custom campaigns based on each advertiser's goals. The partnership also features a unique API built to report abandonment stats for each advertiser directly in Pepperjam's dashboard. Using this data, advertisers can monitor cart abandonments, uncover actionable insights and fuel campaign optimizations.
As an example, our remarketing and retargeting solutions played a key role in the success we saw with specialty food retailer, Mrs. Fields. Over an 11-month campaign, our onsite re-engagement tool tracked a 52% conversion rate on the eCommerce site and produced an average order value $10 higher than the overall affiliate program AOV. (Read Case Study)
Bryan Henkelman, Senior Digital Marketing Manager at Mrs. Fields Famous Brands International, recaps the campaign: "The Cybba and Pepperjam teams worked together to create a digital experience with customer touchpoints that focused on maximizing sales. The combination of Pepperjam's network and digital expertise, along with Cybba's onsite engagement technology, created results beyond our expectations."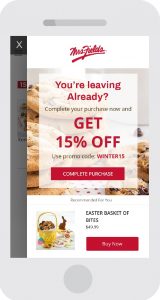 As a long-standing Pepperjam partner, we have provided additional benefits to retailers through our integration with Pepperjam Network. Together, Cybba and Pepperjam provide a seamless launch of our remarketing and retargeting solutions, consolidated invoicing, de-duplication of conversions and enhanced reporting that delivers metrics necessary to extract actionable insights. As partners, we will continue to drive performance-based value to advertisers while partnering to achieve goals all within Pepperjam Network.