With the Baby Boomer generation now reaching retirement age, 99 percent will take at least one trip for leisure in the next year. But among Boomers surveyed by AARP in 2017, 49 percent are confident in planning their travels without online resources. How then, can an e-commerce or travel business reach Baby Boomers? Here's a list of the top Baby Boomer travel trends and tips for your business to reach them.
What do Baby Boomers Want from Traveling?
When citing their reasons for traveling, 57 percent of Boomers wish to spend time with family and friends, 39 percent wish to escape everyday life, and 38 percent wish to simply relax.
Wherever they travel, 50 percent of Boomers wish to dine among the local population and 40 percent say they would also like to tour with locals. Only 18 percent of boomers, however, want to stay with locals on their travels, whether domestically or internationally.
The main circumstance that would keep Boomers from traveling, which 45 percent of Boomers fear, is lack of money.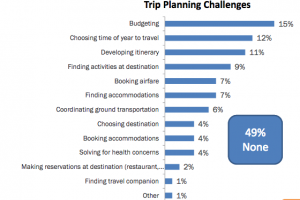 To reach more Boomers with these considerations, offer packages that help Boomers travel with their families and participate in local activities at a discounted price.
When Do Baby Boomers Travel?
Most Boomers travel during spring and summer and less in fall and winter. For international travel, spring is the most popular travel time followed by summer, fall, and winter. For domestic travel, summer is the most popular time followed by spring, fall, and traveling for holidays.
Boomers typically reserve their special "bucket list" trips for international locations and travel domestically for holidays, weekend trips, and family vacations.
Keep these travel peaks in mind as your match your offerings and location packages for each season.
Where Do They Go?
38 percent of Boomers plan to travel with a bucket list for the next several years. The most popular destinations for US boomers include Hawaii, Australia, Italy, and Alaska. According to AARP's 2017 survey, Boomers wish to travel domestically (53 percent) and internationally (47 percent) almost equally.
Similarly, 52 percent of Boomers would like to visit specific cities or towns while 10 percent of boomers would rather relax at a beach or near a mountain. 11 percent of Boomers see themselves traveling via cruise and a small 4 percent would like to go camping.
Be sure to remember these locations as you build your packages, and include options for Boomers to travel with their families.
How Do Baby Boomers Travel?
Few Boomers (18 percent) plan to travel alone. Instead, 65 percent plan to travel with a spouse or with a significant other. 20 percent would rather travel with their children, and 9 percent are planning trips with friends.
13 percent of Boomers surveyed by AARP do not wish to travel for they do not want to do it solo.
To encourage solo traveling, consider personalizing your messaging as much as possible. You can use look-a-like modeling to gather data on single Boomers and offer them similar deals to customers you already have.
How Do They Plan Their Trips?
It's not a secret that Boomers are averse to online resources for travel planning. Among those who do plan and book online, sites such as TripAdvisor, Expedia, Travelocity, Yelp, and Google Maps are the most popular.
A big 41 percent of Boomers skip these sites and book their flights, hotels, and cars directly on a brand's website. This is because 82 percent of traveling Boomers are members of a travel loyalty program and 70 percent of the time, Boomers will book their flight, hotel, or car with their program provider.
Because of this, the best way to bring Boomer business to your site is to offer incentives and rewards via package deals or other programs.
Similarly, because the biggest barriers to Boomer travel are cost, health, and security, make sure to include ways to ameliorate these in your messaging.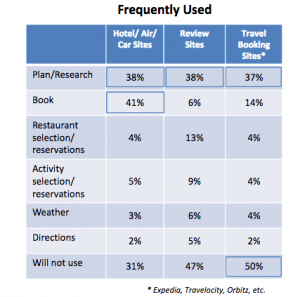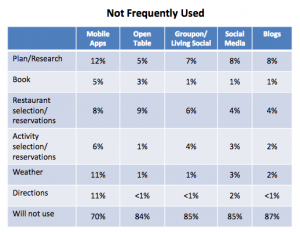 Remember, stating the benefit of your service first and providing more personalized, bargained packages is the best way to reach your audience. Keep these in mind as you cater to these Baby Boomer travel trends.
Questions? To learn more about branding and digital marketing, consult our experts today!