If your business follows a traditional sales cycle, January is a time to finally catch your breath and reflect on the holiday season. If you're like us here at Cybba, you'll waste no time in analyzing your holiday sales and use those insights to build out your future strategies.
In our review of the 2019 Holiday Season, we would have to name mobile as our MVP. While ecommerce sales (composed of desktop, tablet, and mobile) reached a record high in 2019, mobile stood out from the crowd with a 21% increase in sales over the previous year, while growth in other categories flatlined. Let's take a closer look at mobile's breakout year.
Mobile Magic
Ecommerce on mobile devices (or mcommerce) comprised over 44.7% of overall U.S. commercial sales in 2019. The impact of mobile adoption on consumer shopping behavior was most evident during the shortened window between Black Friday and Christmas Day. With 6 fewer days between the two dates, many consumers opted to shop from the comfort of their very own palms instead of venturing in-store or using a desktop computer. As a result, smartphones alone generated $2.9 billion in sales, or 39% of all Black Friday ecommerce sales.
Even individuals who made purchases in-store had likely been influenced by actions taken on a smartphone. During Black Friday, 61% of all online traffic came from smartphones, signaling the growing use of smartphones for product or brand education, even when final purchases were made in-store or on desktop. Think of how many times you've looked up an item on your phone while you were shopping or when you found an item on your phone and went to see it in person before buying. This multi-step decision making process has become a widespread trend motivating brands to adapt their omnichannel strategies accordingly.
How are companies using mobile?
Spending on mobile apps approached $90 billion in 2019, but that impressive figure was reserved primarily for the Walmarts and Amazons on the world. They used their sophisticated and highly optimized apps to showcase their products and capture consumer preferences. And it paid off: people viewed 4.2x more products per session within apps compared to mobile sites.
Fortunately for the rest of us, there are other ways to engage consumers on their mobile devices that do not require an in-house app development team. Mobile responsive design should be a top priority for all ecommerce websites. A website that mirrors the user experience of a successful ecommerce app, like Amazon's, can access some of the benefits that make the bigger apps so effective. The use of Cybba's onsite engagement tool can also help keep customers on the purchase path with targeted messaging and product recommendations, even on mobile devices. Another powerful tool is SMS, or Short Message Services, which are 4.5x more likely to be read than their promotional email counterparts. A combination of these tools can create a more effortless user experience that can rival even that of the big retailers.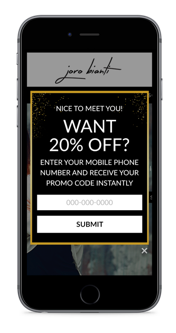 There is hope for us yet!
There are more twists and turns in the buyer journey than ever before, spanning location and platform. A smart combination of customer-centric mobile responsive design, onsite engagement tools, and SMS are the key to communicating with customers across their journey and establishing a killer mobile strategy as your competitive advantage.
To learn more about how Cybba works with businesses to develop powerful mobile marketing campaigns watch our webinar "Mobile Dominance in the New Decade" or reach out to a Cybba specialist.