As the end of 2018 approaches, let's look at the year in review at Cybba.
Expansion Into Latin America
Due to the growing demand for innovative digital marketing and display advertising technologies, Cybba opened new offices in São Paulo, Brazil and Buenos Aires, Argentina. Our entry into Latin America extends Cybba's global presence beyond the U.S., Canada, and Asia Pacific. We are excited by the opportunities to grow across all our regional offices.
New Product Capabilities
In 2018, we launched a number of product capabilities to further increase user engagement, and better understand the user experience.
Promo Bar
We announced the Cybba promo bar to increase customer engagement and boost online conversions. The promo bar is fully customizable, so you have complete control to promote special offers, create a personalized touchpoint, and integrate with the look and feel of your site. The solution can also display email capture fields, videos, animations, and countdown timers to gain customer attention, and drive web visitors to conversion. See video

Insight Surveys
With insight surveys, Cybba gives you the ability to conduct customer surveys through our onsite engagement, promo bar and email remarketing solutions. Read more

You can collect valuable feedback from different online audiences through:
Onsite Experience Survey – Improve your user experience by better understanding your customers' level of satisfaction with their onsite experience.
Abandonment Survey – Reduce your abandonment rates by understanding why customers are leaving your site without completing their purchase.
Post Sale Survey – Acquire valuable customer feedback and identify the key factors impacting their buying process.
Customer Satisfaction Survey – Increase customer retention by building brand loyalty and creating a frictionless onsite customer journey.
Dashboard Enhancements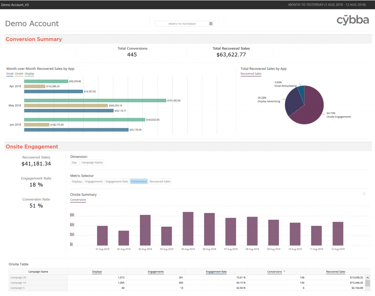 We added new capabilities to the Cybba Performance Dashboard for improved campaign analytics.
Faster load time and improved design
New campaign performance visualization options: Analytics by campaign, ad creative and email step
Improved data harmonization across all platforms: MarTech, AdTech and Social (Facebook, LinkedIn, Instagram, Pinterest)
New "Month Over Month Recovered Sales" widget: Visualize trends in recovered revenues generated by MarTech and AdTech apps month over month
New Advertising Channels
In 2018, we expanded our digital advertising channels to new and exciting platforms.
Reddit
Reddit is a way to access news, connect with people of similar backgrounds, views and interests, and research topics online. According to Alexa, Reddit recently overtook Facebook as the third most popular website in the U.S., behind Google and YouTube. Measured by time spent per user per day, Reddit's audience is more engaged than Facebook's.
Spotify and Pandora
Internet radio has grown tremendously over the last few years. Both Spotify and Pandora allow you to target the specific audience that you are interested in. Advertisers can know exactly who will be listening and viewing their ads (audio, banner or video) unlike traditional radio. Targeting is based on age, geographic region and lifestyle/listening habits.
Podcasts
The proportion of Americans listening to podcasts has nearly doubled in the past nine years, and is projected to continue growing for the foreseeable future. According to a recent study, advertisers are expected to spend $500 million on podcast ads by 2020. Podcasts are highly engaging mediums for delivering messages. With the large selection of podcasts available, you can find the perfect one to match your target audience.