Cybba is on a never-ending quest to demystify channel performance for digital marketers across the globe. We've made great strides toward achieving this goal by launching a custom performance dashboard for our clients. In the spirit of continual measurement, evaluation, and improvement, we are proud to present the latest version of the Cybba Performance Dashboard.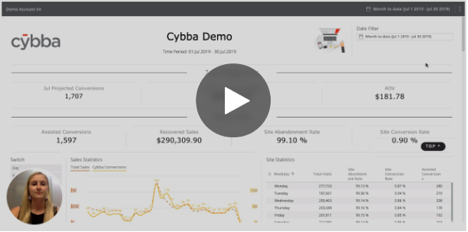 [Watch Now] A walk-through of the new dashboard features with Michelle Telian, Senior Account Manager.
What does this mean for me?
Think of this dashboard as a bigger and better version of its predecessor. It showcases robust performance data and provides a more holistic view of Cybba performance in relation to overall site statistics, like abandonment rate and sales. You can easily evaluate Cybba's progress toward your sales and abandonment recovery goals in one dynamic and easy-to-use platform.
What's new and improved?
Monthly Projections
The dashboard now features a monthly projections section to show you how campaigns are expected to perform in the current month based on historical data. This enables you to recognize trends and gauge performance sooner, so that you and your Account Manager can optimize your campaign parameters proactively.
Advanced Filtering
Your data is only as good as the analysis it facilitates. The dashboard allows you to easily filter data and provide side-by-side performance comparisons based on dimensions such as device type and promotion. Perhaps mobile is performing better than desktop this month, or you want to see how that A/B test is stacking up. This is important information for digital decision-makers. The new options give you lots of ways to drill-down in the data to better show the full picture of your campaign performance.
Seamless Integration of AdTech and MarTech
The Cybba platform consolidates and examines data through the lens of our single attribution model. Cybba leads with a de-duped approach, meaning clients only pay once regardless of how many solutions a consumer touches throughout their buying journey. Now our reporting highlights the cost savings. Explore the customer journey and your cost savings by utilizing multiple Cybba solutions.
Discover all the ways the Cybba Performance Dashboard allows you to dig into your digital campaigns by reaching out to your Cybba Account Manager or schedule a demo with one of our digital experts today.